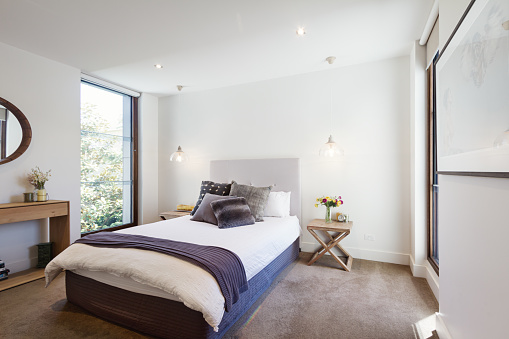 Cool, classic, and refined designs blend rustic, informal beach feelings to define Hamptons style. Chic blues, off-whites, panelled walls, and timber floors are just a few ideas to transform your home into a resort-style retreat. Big bay windows that flood living spaces with natural light provide a relaxing atmosphere, almost as if you're on vacation. Of course, you can always create a Hamptons style bedroom to take things to the next level.
Looking for ideas? Here are some tips to get started:
Invest In Beach-Like Furniture
Hamptons style is defined by cool, classic, and polished designs that combine rustic, laid-back beach vibes. Chic blues, off-whites, panelled walls, and timber floors are just a few ways to make your home feel like a resort. Large bay windows flood living spaces with natural light, creating a soothing ambience that seems almost like you're on vacation.
Create Bright & Airy Indoor Space
Keep the floorplan open and large when planning your Hamptons-style home, and consider orientation to make the most of morning and afternoon sunlight.
Natural light has the power to change a room. It's worth investing time at the start of a development or renovation to maximise light all-year round.
Fresh white walls and timber floorboards provide the perfect Hamptons canvas to personalise and make your own, while bifold doors help create a smooth transition between indoor and outdoor living spaces.
Choose a Cool Colour Palate
Choose those colours who are inspired by nature for example soft white, turquoise, cobalt blue and warm beige go really well.
While the basic colour palette is likely to be neutral, many homeowners want to incorporate a nautical touch into their decor by using blue tones. A splash of duck egg blue here and there goes a long way toward achieving the nautical look that is so popular in Hamptons homes.
You could, for example, add a couple blue throw pillows to your Hamptons style bedroom or lounge sofa, or a traditional blue-and-white vase to your shelf.
Get Shaker Style Cabinets
Classic cabinetry is an important design element in any space, whether it's the kitchen, bathroom, or bedroom. Interiors in the Hamptons style can be trendy yet classic and timeless. Incorporate Shaker-style cabinetry with lovely knobs. Lots of furniture stores have them on display.
Add Some Graceful Greenery
After you've taken care of the exterior of your house, focus on the garden. The primary features are a well-kept lawn, clean hedges, and planter boxes brimming with gorgeous hydrangeas. Without vegetation on the façade, no Hamptons property is complete. Magnolias, star jasmine, and wisteria, if you have the patience to watch it develop.
All of these things are crucial to Hamptons style. They a timeless look, and it's this sense of timelessness that keeps people drawn to this exquisite style. You might have to explore different furniture stores till you get everything right. For more information please contact: www.shack.com.au